Category Archives:
Sandbox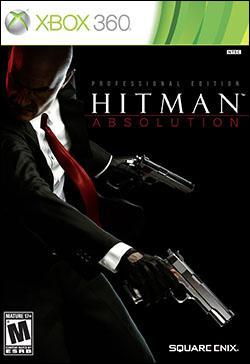 Well, hello there my genetically engineered psychopaths!
I am on a high, I am currently midway through a professional difficulty run through of last Octobers Hitman release, Absolution.
Absolution marks the 5th in game outing for Agent 47, and his shiny assed .45 silverballers. And this time it's personal. In the beginning, 47 finds his mark, his former handler Diana Burnwood… (I'm sure you've all heard all the bad puns about guys letting her burn their wood so I'm not even going to descend to them) and then it's on in a way that is reminiscent of Donkey Kong. 47 goes rogue and finds himself hunted… and the story just gets meatier and more awesome from there. IO Interactive have really gone to town with this game, the performance capturing of the cast leads to a richness of animated movement that is truly astounding. Read the rest of this entry →
Well, hello once again fellow gamers.
And yes, it has finally happened. I have been struck senseless by a game. I have never before felt quite so moved by the plight of our protagonist as he attempts the futile. I am of course referencing Connor, in Assassin's Creed III. His personal mission to seek out justice and equality for his people. His tribe. We, in 2012, know that ultimately his endeavours are futile and for me that actually made the story all the more moving.
But that comes later. At the start the game picks up, almost to the second, from the end of Revelations. And our intrepid, originally quite dull, protagonist Desmond and Co have arrived at the Grand Temple of the First Civilisation. And he has about 2 months to avert the end of days… No pressure Desmond. To do this, he needs a key… and that is where we head back to the past again. We start in London, following Connor's father, and head out to Boston. Read the rest of this entry →
Well, hello there fellow gamers!
First of all allow me to apologise. I'm serious. From the bottom of my heart, I am sorry. I have been remiss. I haven't written a review in too long, I haven't been as active in the community for longer, and for that I beg forgiveness. But fear not intrepid gamers. For I am back, I won't be here regularly, but once again I am around for the gaming crowd. I've missed you all.
And lately I have been playing and enjoying that rarest of rare things. A GTA clone that actually has a depth to rival Rockstars seminal series of madness and mischief. I have fallen head over heels in love with a tale of revenge, honour, justice and most importantly… family. I am of course referring to Sleeping Dogs.
There is a history to this game too. It was originally meant to be the reboot of the True Crime franchise by Activision but for some unfathomable reason they dropped this development. Production came to a stand still and since its announcement years ago nothing much had been heard of True Crime: Hong Kong.
Then in swoops Square Enix to, for once, save the day. They published TC:HK under the title Sleeping dogs (presumably because they couldn't acquire the rights to the franchise as a whole) and I would like to go on record and say something that I never thought I would say. Thank you Square Enix. You done good. Have a cookie.
Now whilst those of you know me recover from the shock of me actually being nice to the developers of Final Fuck-up, sorry, Fantasy, let me explain. This is a tale about an undercover cop, yes I know… Shocking… But this one works. This one actually has a gritty depth and realism that makes the story emotive and believable.
You play as Wei Shen, a native of Hong Kong who, at the age of 10, moved to San Francisco. Grew up, dropped out of uni, went to the police academy (I'm guessing without too many hijinks) and became a member of Frisco's finest. Now from what I can gather through the back story he is tasked with undercover work on the triads in sunny California.
Cue Wei being seconded to HKPD. Tasked with infiltrating and bringing down the Sun On Yee Triad from the inside… and this is where the game starts. And fuck me with a dirty chopstick does it start off strong. For more than just one reason.  Visually this title is a triumph. The richness of the artistic rendering makes it one of, if not the single, most pretty sandbox title on the market today.
The gameplay too adds another layer. The driving controls are intuitive and the combat is refreshingly melee centric rather being heavily focused on gunplay, don't get me wrong, guns do show up in the later sections of the narrative but they still play very much second fiddle to a game that lets the player live out fantasies of being the Dragon. Wei even looks like he has been modelled after the late Bruce Lee.
The kung-fu flavoured combat is accentuated by the simple control plan that is reminiscent of the hand to hand systems of the Arkham Batman titles. It's fast, it's brutal, it's free-flowing and if you get the hang of it, it's so amazingly intuitive that you will counter attacks before the game even warns you that they are coming.
Now lets move on to something that I think is probably the most important aspect of any game… The story. Fuck me sideways the writing in this title is amazing. Imagine The Departed, if it had a very good night with Hard Boiled and the offspring decided that it didn't want to be a movie. That offspring would be this. The story is so absorbing that I, on more than one occasion, found myself breathless with the tension of the moment.
The characters are all rich and rounded and set off the world whilst adding a depth and level of realism that is rarely seen in games. The relationships between characters are all believable and all work. The structure of the organised crime syndicate that is the Sun On Yee Triad is shown in a way that smacks of research in the best possible way.
However there are things that let this game down. There are glitches present in the world where you will find yourself falling off of nothing and end up passing through the floor to your waist just to be picked up and reset on the sidewalk. Some walls are more tangible than others and I would normally forgive clipping in other games but in a game where so much effort has obviously been worked into the build then I find myself massively upset by such little errors.
Also, there's no real challenge in any of the missions. You get 3 experience bars. The first being Face, which is essentially a measure of the respect others have for your character. Then there's the Triad path, which unlocks different melee moves and other things that make you a better thug. And finally there is the Cop path. Which increases your ability to shoot and steal cars and … well… you know… makes you a better cop.
However there is no real penalty for being a bad cop, you just get a little less experience in that bar. Now that irked me because it meant I was about 2 levels higher on my Triad skill tree. And before you say "well, bet a better cop, don't jack cars or hurt people" You try it when you have a little under a minute to navigate the narrow streets of HK in rush hour traffic.
It just seemed pointless to me to penalise in that manner rather than, y'know… not remove entirely a reward. But having said that I will be recommending this game to all and sundry. Honestly it is probably the best GTA clone I have played. Ever. And I have played a lot of them, if not all of them.
To my chum back in Blighty, Codename Dey, GET THIS FROM YOUR LOVE FILM LIST NOW. Thats how much that I believe fans of this type of game with love it. From stormy start to blood soaked conclusion I was enthralled.
Happy gaming guys,
Archer.
P.S. Check out the blog where my thoughts on books now reside! http://cuddlebuggery.com